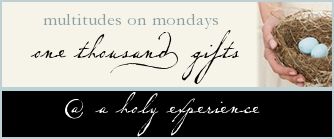 One Thousand Gifts? This is much harder than I thought it would be. One day this past week the only tangible "gift" I came up with was the fact that we learned that the capital of Delaware is Dover.
I have realized that to find the daily gifts bestowed on me, I need quiet, not necessarily a quiet house, but a quiet heart. I am trying. I really am, but it is so hard right now admist the chaos of my days. I just say to myself, I can do this, day by day. It will get easier--hopefully.
It must be a learned skill, this finding peace and quiet of the heart---I'll keep trying.
Now for some of this weeks gifts:
#6 Becky calling from work, just to check in while on her break. I in turn, call my mom, just to check in. All things are better after talking to Mom.
#7 Icicles dripping from the eaves. You can hear springtime trying to show itself--to let us know it will arrive. We just need to be patient.
#8 Eight children home for dinner, laughing like the best friends they are....arguing like the best friends they are.