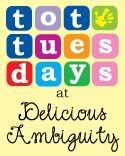 Today we enjoyed the wonderful picture book,
Kitten's First Full Moon
.
Little kitten sees the full moon for the first time, and thinks it is a beautiful bowl of milk.
While reading it I wanted to have the kids do a project that could be tied into the story.
I thought of
Steven Spangler's experiment Color changing milk
.
A very simple experiment with great results.
You need:
2% or whole milk
plates
food coloring
q-tips
Dawn dish detergent
Pour the milk onto the plates and let is sit and settle.
This is a great time to practice lapping milk like a kitten.
Carefully drop one color of food coloring into the milk, trying not to "mix" it up.
Dip the q-tip into the Dawn dish detergent
Dip the q-tip into the milk and watch the wonderful swirling colors.....
The first "dip"!
I love the looks on the kids faces as they did this---it works over and over.
Try not to mix the milk though, or it will all turn gray.
I hope you enjoy this sideways video....sorry about that!